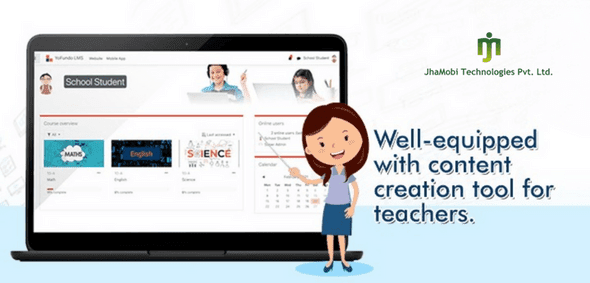 In today's digital age, teachers face the challenge of keeping students engaged while effectively conveying educational concepts. Fortunately, a well-equipped content creation tool can revolutionize the way teachers approach lesson planning and instructional delivery.
Many platforms provide content which are one-sided and non-interactive. All eLearning modules have recorded videos that explain concepts which is a passive way of learning. Now using this software, We can make  creation of content interactive, more engaging and easy to understand for teachers.
JhaMobi LMS has a very efficient Content Management System which manages various types of content for Educational Institutes.
Content generation is a complex process. Teachers need proper training in software to use content creation tools appropriately and efficiently. These tools assist teachers to create, manage and deliver their proprietary content. The latest technologies are used after research and analysis for the finest output. Content will be more interactive, engaging, immersive and experiential learning.
There are many types of content that can be delivered through an JhaMobi LMS:
Text-based content: like bytes, pdf, flipbooks with Table of content, Page/Handout, external links/URL. Slides.

Teachers can create Lessons in a course. The lesson has content (text and image) and questions (MCQ, true/false etc) come together. It is a kind of Adaptive Learning as well as Outcome based learning. It provides scoring to assess understanding of the subject.

Another content creation tool where teachers can highlight, write, type, add stamps, and post notes in a PDF. They can use a mouse, trackpad, touchpad to make handwritten markings when using a computer or an iPencil, stylus, or finger on a mobile, iPad or android tablet.

Image-based, Audio-based, Video-based quizzes/assessment/text/exam

Video-based content like Animation, 3D videos,

Audio-Video content: Class recording, Podcast, YouTube

Interactive Videos: It has an excellent tool that allows converting any YouTube video from passive to active learning by programming the video to pause periodically, prompting students to answer questions that reinforce key concepts. Learners can be evaluated by responding to these videos. Here's a list of the types of questions supported by the tool – multiple choice (with one or multiple correct answers), true or false, fill in the blanks, drag and drop, mark the words , open-ended question
Do Follow us :
Linkedin