A Software Testing course typically covers a range of topics related to the process of ensuring the quality and reliability of software. The course may include both theoretical concepts and practical hands-on experience. Below is an overview of the key topics commonly covered in a Software Testing course:
6 months. This allows for an in-depth exploration of Digital marketing concepts and practical hands-on experience.
Join Our Internship Program by filling application form on https://jhamobi.com/internship/

Mail to admin@jhamobi.com

Call +91 8605666060 / +91 98185 80529
Shortlisted candidates will be selected based on Eligibility criteria and academic performance.
Eligibility
A bachelor's degree in computer science, information technology, software engineering, or a related field is often preferred. However, some entry-level testing positions may accept candidates with degrees in other disciplines if they have relevant skills and experience.

A good understanding of software development processes.
Knowledge of programming languages is beneficial but not always required, especially for entry-level positions. However, for roles involving automation testing, proficiency in scripting languages may be necessary.
Pre-requisites
The prerequisites for pursuing a career in software testing can vary depending on the specific job requirements and the level of expertise needed. However, here are some common prerequisites and recommended skills:
Project 1
SEM Live Project - Google Ads
Project 1
Web Analytics - Live Project - Google Analytics
Project 2
Email Marketing Live Project - GetResponse
Project 3
Content Marketing Live Project - CMS like WordPress
JhaMobi Technologies certificates are given after completing full assignments and Mock Tests, quizzes/tests and Final exam online. Interns have to complete courses in 3 months. The certification exam is free of cost. 
70 Marks will be allocated for assignment/live project and 30 Marks will be allocated for an proctored examination.
A  minimum of 40 % passing marks (i.e. at least 28 marks in assignment/live project & 12 Marks in proctored examination) will be required for being eligible for the Certificate.
Kindly note:- The students enrolled in Universities/Institutions/Colleges can avail of Credit Transfer as per UGC Regulations, 2021 for this course. The Host Company for this Credit Transfer will be JhaMobi Technologies Private Limited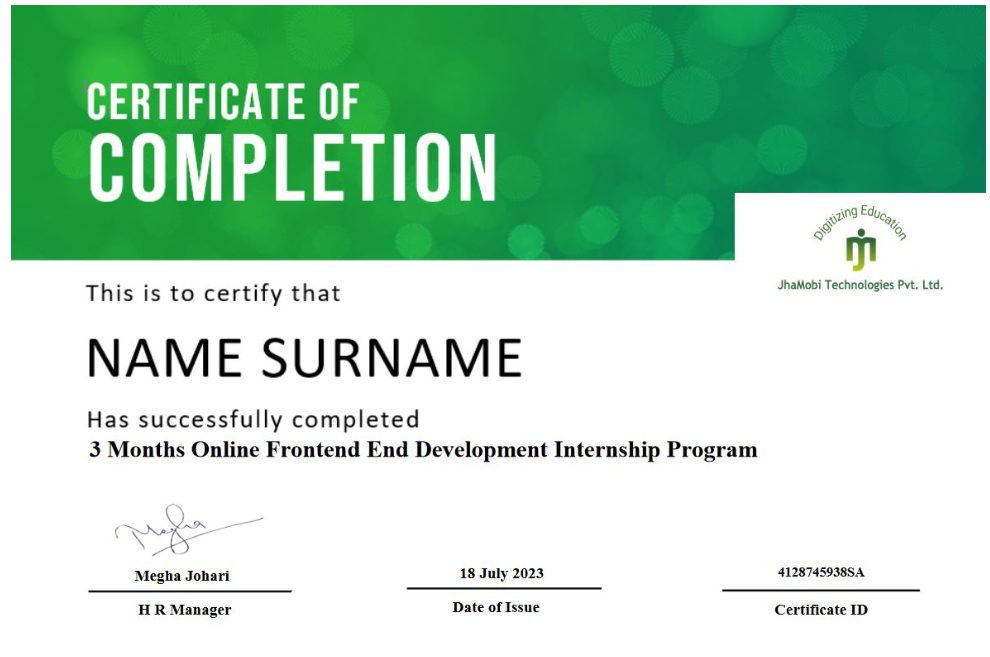 During my internship at JhaMobi Technologies Private Limited from December 2015 to May 2016, I had the privilege of experiencing a dynamic and innovative work environment. The team's commitment to quality and their encouragement of learning made it an invaluable experience for me as a software test engineer. I was exposed to cutting-edge testing methodologies and had the opportunity to work on challenging mobile app projects like Deeksha and YoApp. This internship not only enhanced my software testing skills but also fostered a strong sense of teamwork. I am grateful for the support and mentorship I received at JhaMobi Technologies, which played a pivotal role in shaping my career.