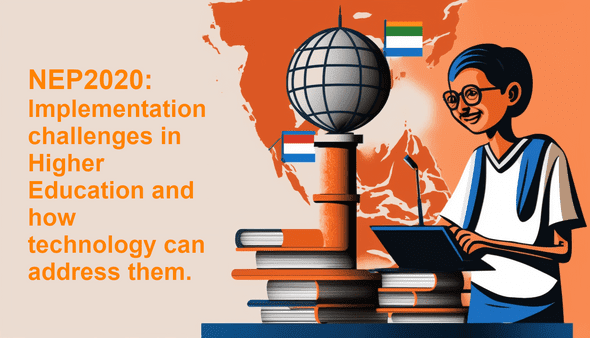 The #highereducation system will be completely redesigned and revitalized as part of the #nep2020 policy to deliver higher education.
The #highereducation system will be completely redesigned and revitalized as part of the #nep2020 policy to deliver higher education with quality, equity, affordability, accessibility and accountability.
The implementation of the #nep2020 was hailed as a significant development for India's Higher Education industry.
It holds many promises for addressing longstanding educational debates and challenges: allowing access to quality educational resources for individuals that impact their learning, to communities that are geographically remote, to populations in economic need; enhancing the role of teachers and other educators in supporting human learning; as engines of economic prosperity, as an ecosystem of nation building.
However, for various enhancements brought by NEP2020, there is a risk of displacement, disruption or destruction of some kind.
The policy faces the following key challenges in its implementation:
Challenges with the NEP2020 in HEIs
Highly fragmented ecosystem: A rigid separation of academic disciplines due to a highly fragmented higher education ecosystem. This policy's major goal is to stop the fragmentation of higher education by turning institutions of higher learning into multidisciplinary universities. Make sure there is a large, multidisciplinary university or college in or close to every district as part of the higher education system. Transforming HEIs into sizable multidisciplinary institutions with a target enrollment of 3,000 students or more. By 2030, every district must have at least one multidisciplinary HEI.
NEP2020 aims to simply double the Gross Enrollment Ratio in higher education by the year 2035 which requires us to build one new institution every week for the following 15 years.
Few HEIs offer the local language as a medium of instruction. All HEIs in India should provide courses or programs in regional or local Indian languages.
Low standards of undergraduate education are a byproduct of large affiliated universities. The policy aims to push institutions towards academic and administrative autonomy.
Challenges related to Vocational Education:
According to the 12th Five-Year Plan (2012-2017), less than 5% of the workforce in India between the ages of 19 and 24 has formal vocational training. By 2025, according to NEP2020, at least 50% of students in the K–12 and higher education systems will have access to vocational training.
The difficulty in achieving this goal is in giving students with vocational education credentials access to regular higher education. Integrating high-quality vocational education into higher education is another challenge.
Challenges related to Professional Education:
Less than 1% of students in higher education are enrolled in agriculture and allied sciences, despite the fact that agricultural universities make up about 9% of all universities in the nation. Agriculture and related fields need to be more capable.
Encourage deeper partnerships between industries and institutions of higher learning in order to advance innovation and study in these areas.
Increase the employability potential of professional courses
Challenges related to budget:
The NEP2020 calls for increasing education spending from 4.6% to 6% of GDP, or around INR 2.5 lac crores annually. Nevertheless, this policy is implemented at a time when the economy is struggling, making meeting this large percentage of spending a more difficult task.
Challenges related to curriculum:
As opposed to the current teacher-centric model, in which teachers decide the courses, curriculum, evaluation and pedagogy, a student-centric model will be developed that will give students the right to decide their learning and its pace for enhanced teaching-learning experiences. The strategy calls for a comprehensive structural redesign of the curriculum, but in order to deliver this curriculum effectively, we need teachers who have received pedagogical training and are aware of its requirements.
Challenges related to the cultural shift:
The NEP2020's emphasis on multidisciplinary learning, inter-disciplinary learning, the Multiple Entrance and Exit System (MEES) and the Academic Bank of Credits (ABC) in higher education is highly positive and encouraging, although there is some pushback and resistance to these reforms.
Overcoming these hurdles requires a cultural shift and behavioral changes in the entire higher education ecosystem as well as across all stakeholders in the whole value chain.
Solution- leveraging the advantages of technology:
When and where traditional and in-person modalities of education are not feasible, new conditions and realities demand alternate modes of high-quality education. The NEP2020 is aware of the significance of utilizing technology's advantages in this area.
The development of educational practices and outcomes will be significantly aided by education technology (EdTech). The freedom from being forced to attend school for years, from having to study at certain times, from being trapped within walls, from having to choose the teacher, and, most significantly, from having to study the subjects of one's choosing is provided by digital education.
EdTech promises to increase the efficacy and value of teachers, revolutionize individualized learning, reduce administrative burden, and improve overall retention and learning of students with the aim of promoting human learning and achievement.
The value of face-to-face in-person learning is fully acknowledged even as technology-enabled digital learning and education are being promoted. As a result, several successful blended learning models will be found and appropriately replicated for various subject areas. Instead of becoming a screen-based education with little emphasis on the social, emotional, and psychomotor elements of learning, online education needs to be combined with experience and activity-based learning.
Favorable environment for EdTech:
The proliferation of online education is also greatly influenced by the accessibility of devices and the simple, affordable, and easy-to-use internet.
Thanks to the Digital India initiative and the accessibility of affordable computing devices (such as laptops, webcams, mic, etc.) make it is easy to envision.
Economically and environmentally, digital is cheaper and cleaner than paper-based materials to distribute and update. With respect to cost and diversity of delivery, EdTech is more portable, reaches remote areas and can be used to reduce the constraints of geography. Accessing remote areas can help expand perspectives. The rationale is that an enhanced infrastructure affords greater access to better education for all.
This is where reasonably priced online learning is useful with the quicker adoption of digital education in HEIs. Open Universities can address the issue of accessibility and availability of high-quality education. Enrollment issues could be addressed by utilizing quick, adaptable, and affordable digital infrastructure.
To address India's size, variety, complexity, and device penetration, the education industry needs open, interoperable, flexible digital infrastructure. This will guarantee that despite the rapid advancements in technology, technology-based solutions do not become obsolete.
Create and implement frameworks for assessments that include the design of competencies, portfolios, rubrics, standardised tests, and assessment analytics.
NETF and other suitable entities shall establish standards of content, technology, and pedagogy for online/digital teaching-learning as reonline/digital education develops. These standards will assist States, Boards, schools and school complexes, HEIs, etc. in implementing guidelines for e-learning.
Presently, NEP2020 has made several reasonable and reformative steps toward the encouragement of online education through MOOCs. The government encourages SWAYAM and other MOOC platforms in HEIs. Now eContent, digital repository, and coursework are publicly available on Swayam, Swayamprabha, NPTEL, NDL, Subodh, Subodhganga, and Vidwan.
But this initiative leads to various insufficiencies as below:
Generates more and more burden and overcrowding on the centralized MOOC model.
MOOCs lack direct interaction and feedback from instructors. MOOC Course contents are one-sided and non-interactive which is regarded as a passive method of learning.
The learning is not outcome-based which is not according to NAAC compliance.
Sometimes overwhelming and sometime Limitations on the course content. The quality of MOOCs varies greatly, and some may not meet the expectations of students. Sometimes excessive courses on the same topic, programs or discipline, and occasionally the course content is restricted.
MOOC content is based on a publicly-shared curriculum and is not compatible with HEIs curriculum and course syllabus.
Limitations on the course content. Sufficient Resources and Content are not available for most of the course.
Teachers and course instructors who appear in videos are different from their offline counterparts which may create a conflict of interest.
Course creation is a continuous process that requires constant effort.
These contents lack reliable backup, restore and version management mechanisms.
Various issues with course completion by enrolled students. Students drop out of these courses due to various reasons.
MOOC systems are not so effective to reach out to students.
Continuous tracking and follow-up system is required.
Technical issues are not addressed immediately.
To be successful online educators, teachers must receive the proper training and growth. A good instructor in a traditional classroom may not necessarily be a good instructor in an online classroom.
Scaling up online assessments while preventing unethical behaviour presents many difficulties.
To avoid this dire situation and to make whole Online Education comprehensive and efficient, HEIs can use institute-owned LMSs which are comparable to SWAYAM MOOCs.
Institute-owned Learning Management Systems (LMS) have several advantages, including
Customization: An institute-owned LMS can be customized to meet the specific needs of the institution, making it more effective and efficient.
Control: The institute has complete control over the LMS, including data management, security, and user access. Reliable backup, restore and version management mechanisms.
Dual mode: teacher-led study as well as individual study.
Localization: It provides resources and classes in the relevant local language.
Integration: An institute-owned LMS can be easily integrated with other institutional systems, such as student information systems and assessment tools.
Cost-effective: In the long run, an institute-owned LMS can be more cost-effective compared to subscription-based models.
Data privacy: An institute-owned LMS ensures that sensitive institutional and student data remains within the control of the institution.
Reliability: An institute-owned LMS can provide more reliable and consistent performance, as the institution can manage its own hardware and software infrastructure.
Some EdTech company provides LMS software to educational institutions like #Moodle LMS, Blackboard Learn LMS, Canvas LMS, Google Classroom
JhaMobi Technologies Private Limited (JTPL) is an Educational Technology (EdTech) software service provider which provides consulting and technology in the education domain. It is into web technology, mobile technology and cloud technology development in the EdTech domain.
JhaMobi Technologies helps HEIs with end-to-end LMS solutions and services:
Institute's Software Solution: Personalized and Exclusive branding. Fully customized with the university logo, name, and other details. White labeling includes Exclusive branding, and renaming terminologies. No other brand will be not displayed in the Web Portal and Mobile App.
Fresh end-to-end installation and timely version upgrade: Upgrade the current LMS version with new releases and capabilities. New versions introduce a new design language and new features (like live classes with auto recording) for a new experience of the teaching-learning process.
3rd party software integration: Integration of LMS with ERP software systems covers MIS/Reporting, Admission Management system, Fee management system etc.
Institute-owned Mobile App: Fully customized and personalized Mobile App
Proctored online exam system which uses face recognition AI to prevent cheating. Proctoring log report. Provides utmost strictness to an examination drive and eliminates any unwanted incident.
In-demand customization through custom coding to increase capabilities and features for value addition. New enhancements like OTP login, Mobile App Push notification etc are incorporated.
Data protection and reusability: with Application-level backup and Server level backup. This backup scheme will help teachers get references in the coming academic years.
Scalability: Scale up and down server capacity according to the need to optimize cost.
Technical support to teachers and students: Integrated with the helpdesk to raise tickets for product-related support. Chatbot supported. Teachers receive online training on how to deliver instruction utilizing LMS and on how to create high-quality online content using online teaching platforms and tools.
Application maintenance by software issue/bug fixing and incident management.
Database maintenance by maintaining Database reports, Database related queries, CPU optimization, and Server provisioning. We deploy and support both Cloud as well as an on-premise data center.
Professional Services: Difficult and costly to manage technology and IT resources for in-house software solution development for any institute. Attrition is a big loss for the education institute. We as a company understand this problem and know how to give continuous and professional service to clients.
On-demand Product Training for teachers/coordinators: Online training with recording. It will cover all important modules. 2 days of client site visit after training. Teachers receive training on how to deliver instruction utilizing LMS and on how to create high-quality online content using online teaching platforms and tools.
Most institutes limit themselves to very few features and capabilities of LMS due to a lack of expert and informed resources, adequate research, lack of time, or being busy with other missions. Our experience and expertise help them to understand their problems and challenges and give customized and optimal solutions.