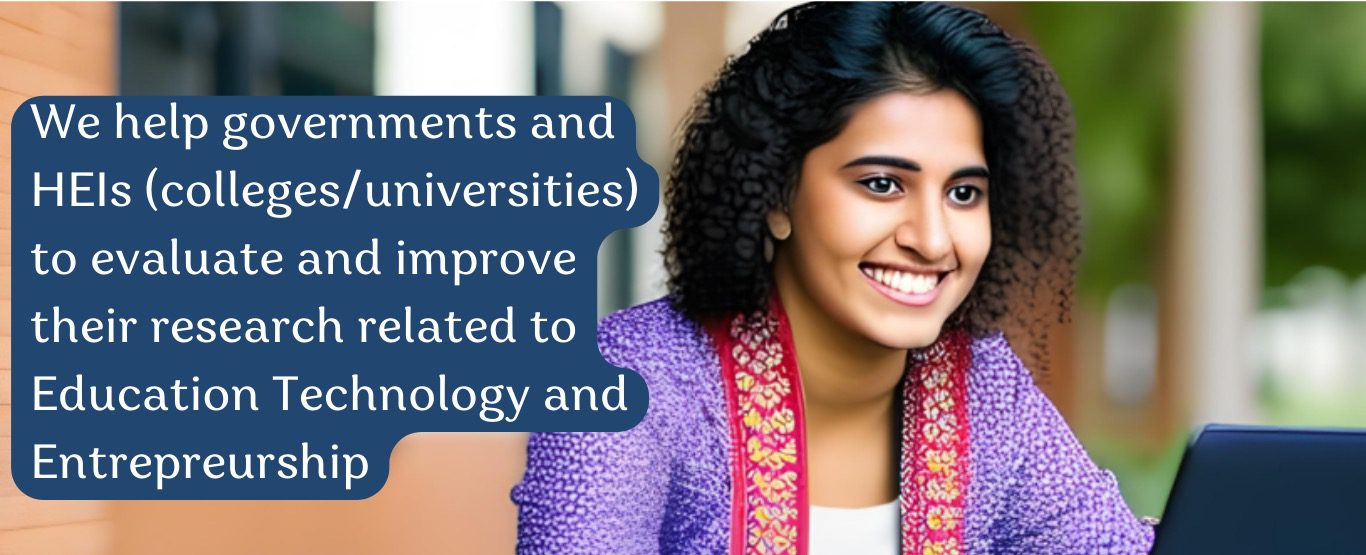 Upon analysis of research publications, scholarly journals, reports, and news sources from Indian research institutions and universities, it is evident that the field of Education and EdTech holds immense interest and significance in India's research landscape.
 The education sector is in a state of constant evolution, driven by technological advancements. Research focused on identifying effective online teaching methodologies, enhancing digital learning platforms, and improving educational accessibility is poised to become increasingly prominent.
JhaMobi journaling platform (ejournal.jhamobi.com) provides academic publishing services for researchers and scholars across PAN India. It offers a platform for A Multidisciplinary Peer Reviewed Journal for researchers to publish their research articles in various fields of Education and EdTech.
JhaMobi eJournal offers a range of services to facilitate the publication of academic and scholarly research articles. These services aim to ensure the quality, accessibility, and dissemination of research findings:
1. Peer Review: JhaMobi eJournal facilitate the peer review process, which involves subjecting submitted research articles to evaluation by experts in the field. Peer review ensures the quality and validity of the research before publication by JhaMobi eJournal uses plagiarism detection tools to ensure the originality of submitted content and prevent academic misconduct.
2. Editorial Services: JhaMobi eJournal provide editorial assistance, which includes copyediting, proofreading, and formatting to ensure that articles adhere to the journal's guidelines and standards. JhaMobi eJournal assists in editorial decision within 10 days of paper submission.
3. Online Submission and Management: JhaMobi eJournal offer online platforms for authors to submit their research articles. These platforms also allow authors to track the progress of their submissions and communicate with editors and reviewers.
4. Open Access Publishing: JhaMobi eJournal offers open access options, allowing research articles to be freely accessible to readers. This enhances the visibility and impact of the research.
5. Digital Archiving: JhaMobi eJournal ensure the long-term preservation of research articles through digital archiving, making them accessible for future reference.
6. DOI Assignment: JhaMobi eJournal assign Digital Object Identifiers (DOIs) to each published article. DOIs provide a permanent link to the article and facilitate citation and indexing.
7. Indexing and Abstracting: JhaMobi eJournal work to have their journals indexed in databases and abstracting services to increase discoverability and visibility of the published research.
8. Online First Publication: JhaMobi eJournal may offer an "Online First" option, allowing accepted articles to be published online before the complete issue is compiled. This provides rapid access to new research.
9. Author Promotion: JhaMobi eJournal may promote authors and their work through author profiles, social media, and press releases, enhancing the visibility and recognition of researchers.
10. Editorial Boards: JhaMobi eJournal assemble editorial boards consisting of experts in the field who help oversee the review process, contribute to the journal's direction, and maintain its quality.
11. Metrics and Analytics: JhaMobi eJournal provide authors with access to metrics such as article downloads, citations, and Altmetric scores, helping them gauge the impact and reach of their research.
12. Copyright Management: JhaMobi eJournal manage copyright permissions, licensing, and agreements between authors and the journal to protect intellectual property.
13. Special Issues and Themes: JhaMobi eJournal often organize special issues or thematic collections of articles around specific topics or conferences, providing a platform for in-depth exploration of certain subjects.
14. Ethics and Standards: JhaMobi eJournal uphold ethical standards and guidelines for research publication, ensuring transparency, accuracy, and integrity in the publishing process.
Research Area and Scope:
These Journal of Education is an invaluable resource for teachers, counselors, administrators and educational researchers. It publishes research papers on current educational issues and encourages debate on theory, policy and practice adopted in the education sector.
The journal focuses on education as well as educational practice. The articles are highly relevant to the issues and challenges faced in the education sector and encourage innovative and creative research-based and technology-based approaches to solve the issues.
Highlights:
1. Instant paper submission: You get acknowledgment with the article id/url soon after online submission.
2. Affordable price: You can publish a research paper as low as INR 1500 and $30 for foreign authors.
3. Retain paper copyright: Author retains the copyright of the research paper and only give a license for publication to JhaMobi eJournal.
4. Full colour publication: You receive a published paper with complete color texts after publication.
These services collectively contribute to the dissemination of high-quality research, foster academic discourse, and support researchers in sharing their findings with the broader community.